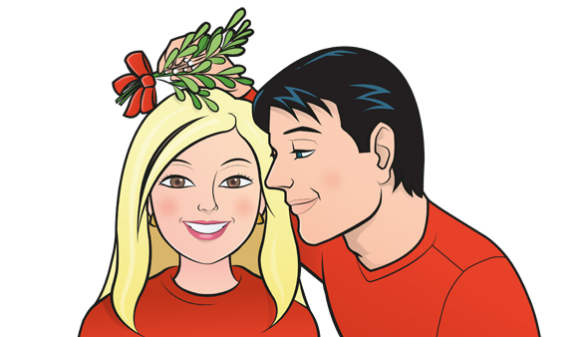 The idea of sending your girlfriend Christmas text messages while in the same room may seem a little odd. But if she's spending the holidays with you and your family for the first time, you can bet the ranch that she's a little nervous. Calm her anxiety by sending a sweet or funny text that lets her know you appreciate her presence:
"Looks like my mom really likes you. She never laughs at my jokes. ☺"
Or, when you're eating dinner,
"Don't tell my grandmother I said this, but her Turkey is terrible….at least I can share the pain this year 😉 "
Afraid your jokes will come across as corny?
Who cares! It really doesn't matter. Any effort to make her feel more comfortable will gain you big points in the boyfriend department.
Separated For The Holidays
Spending the holidays away from your boyfriend can be tough, especially if you are really, really into each other, and you spend a lot of time together on a daily basis. You can choose one of two approaches: sentimental or optimistic.
"We just took our yearly family photo. Wish you were here. Miss you."
Or…
"We just took our yearly family photo. Can't wait for you to be in next year's! ;)"
Though it may be tempting to swamp your S.O. with texts and picture messages while you're apart, try to keep the conversation low-key, but fun.
What to Remember When Sending Christmas Text Messages
The first Christmas with your S.O. can be both exciting and a little nerve-racking. You don't want to be an emotional disaster, but you also don't want to act nonchalant. There is a fine, fine line.
If you're spending the holidays with your boyfriend or girlfriend, make the most of your time together.
Christmas Text Messages In Every "Flavor"
"I asked Santa for the best boyfriend/girlfriend in the world…and I got you"
"Shhh but Holidays are hardly happy without you…Miss you"
"To a warm, delicious, and all-around fabulous Christmas…from Santa's naughty little helper"
"Who says you can't be naughty AND nice?"
"If I'm honest about what I really want, Santa might put me on the naughty list…"
"My Christmas Wish List:
– Nothing (on)
– No One (else around)
– No Where (but here)
See? I'm easy to please. . ."
If you would like some creative text message ideas (for something other than christmas text messages), sign up for our free 30 day Texting Club and receive over 300 text messages!
Recommended for you
Speak Your Mind!
If you'd like a picture to show up by your name, get a Gravatar.