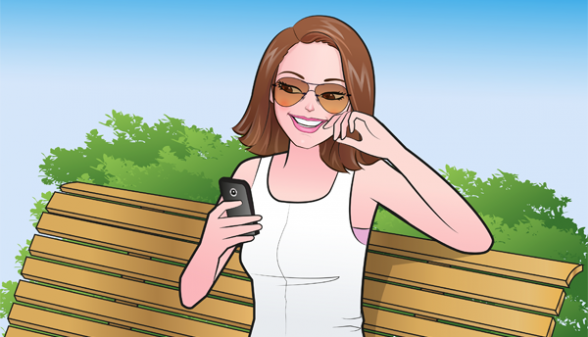 If you have been, or are in a long distance relationship, you know just how difficult it is to be apart from your significant other.
Instead of looking them deep in the eyes as you chat over morning coffee, phone calls, Skype, emails, instant messages (what's app) and texts become your main form of communication. Scratching your head asking yourself how can you be flirty and/or romantic through these modern tools? Are you wondering what to say? Yes, long distance relationships can be tough!
Relax! We have some examples and ideas to fit almost all long distance relationships. So until you both meet again, sweeten the anticipation with only a few words…
Long Distance Relationships Example Texts
Romantic:
• A kiss for each day that we're apart.
• Going to hold you so tight when I see you.
• You should be here, touching me.
• You're my favorite daydream.
Flirty:
• My pillow still smells like you.
• You should hear the smile in my voice when I think of you.
• Missing the way you move against me when you sleep.
Sexy:
• Just your voice is enough to turn me on.
• I just want you to be happy, here and naked.
• Been reading up on new ways to please you…
The DOs & DON'Ts
Long distance relationships have rules too:
1. It's not only about you. Don't forget to ask them how their day or week is going.
2. Don't slip into the habit of becoming easily jealous and obsessive. Give them time to reply to your texts and try not to come across as needy. People can feel needy 1000 miles away – desperation comes through every time – even in long distance relationships.
3. Keep up regular communication – at least once a day! But remember not to go the other extreme by spamming them. Nothing screams psycho louder than a chain of 10 texts!
4. If you're in different time zones, be considerate and don't text them too early or late in case they are sleeping.
5. Keep them updated about your life and at least once in a while, let them know that you're thinking about them and that you love them.
And That's It!
Use our tips and texts to turn long distance relationships into something more exciting and satisfying. If you're interested in receiving creative text ideas, sign up for our free 30 day Texting Club trial. You will receive over 300 messages…and have a great time making the communication side of long distance relationships easy.
Recommended for you
49 Responses to "10 Flirty Texts For Long Distance Relationships"
Speak Your Mind!
If you'd like a picture to show up by your name, get a Gravatar.