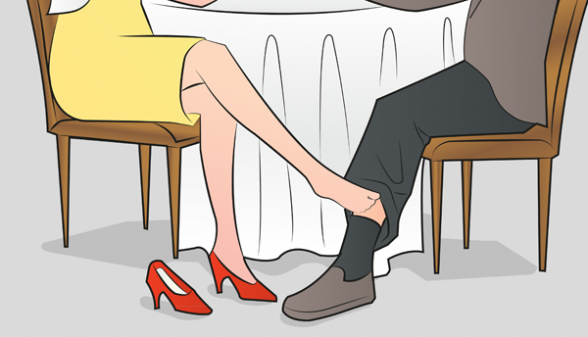 Share this:
Despite what you might think, words that turn guys on are a little trickier than "Tonight let's watch Sports center instead of the Bachelorette." OK, actually, that one might work. Pinpointing the right words that turn guys on requires finesse and a general understanding of what your man really likes. These words, expressions, and sentiments might be outright flirty, or they could even be sneakily woven into a regular conversation. No matter what, remember what your intention is: arousal.
The Difference Between The Sexes
When it comes to romance, women love hearing words that solidify their partner's commitment, while men might actually feel uncomfortable being showered with constant verbal reminders of their other half's affection. So, what do guys like? Guys love to feel supported, treasured and lusted after. What's the moral of the story? Don't be needy; instead, be flirty and fun. You can be nurturing (men are drawn to kind women), but don't ever try to replace his mother.
Compliment His Body
Get flirty. Keep a mental laundry list on hand containing what YOU like, and what turns you on about your man. Whenever you want to set the sparks flying, pull it out and compliment something specific. After all, if the tables were turned, would you be able to resist an attractive man who compliments you?
Seduce him:
Complimenting your boyfriend on something physical will make him putty in your hands, and get him where you want him – in your bed!
"Love your strong shoulders and feeling your hard biceps flex when you lift me up…"
"Seeing you in any shorts above-the-knee gives me the dirtiest thoughts."
"You have such a hot body. I love knowing that I'm the only person who gets to see you without your clothes on."
"You have the most intense "bedroom eyes", they are so deep and sexy."
Describe What You're Wearing
This is a classic that's been used by countless women. So why change a wining team? When you're apart from your mate, texting him details about what you're wearing will definitely get his blood pumping and keep you on his mind.
Provide your man with imagery that he won't soon forget:
"Just tried on my new black lingerie. You know, the set with all the lace and the "easy access"
"Way too hot outside for pants. Guess I'll be wearing miniskirts all week long."
Prove you listen (and care):
Use all your ammo, and tease him with texts describing things that you know he likes. Does your boyfriend love to run his hands through your lovely locks when you're wearing a sleeveless top? Has your crush ever complimented your legs when you wore a particularly short skirt? Use what you know he really likes.
"Remember those short-shorts you liked so much? I'm wearing them today."
"Looking forward to our date tonight…decided to wear your favorite sun dress (the backless number)."
Give Him Control
Playing with power, or role-playing, in your sex life can be an exhilarating experience. These texts don't have to get outright dirty or risqué, but they should match your boyfriend's preferences.
Hand over the reins and give him the power to control "intimate matters":
"While I'm in the shower, pick out my underwear."
"Tonight, I'm going to let you do whatever you want. Start planning."
Cater To His Interests
Intellectually speaking, there's nothing sexier than a girl who knows her boyfriend's interests. Whether it's preparing his favorite meal or surprising him with a gift, fixating on your boyfriend's hobbies, interests, and passions shows that you are a warm and sensual woman.
Show him that you really care:
Make it all about his comfort and personal happiness by going out of your way to please him (easy – don't do this all the time or he will become a spoiled brat!).
"You hungry? Because your favorite pasta dish with the little cherry tomatoes and chunks of parmesan is all ready!"
"Couldn't help myself….just picked up a special jersey for you."
"The Game of Thrones box set was half off. Ready to veg Sat night?"
"Pimp my ride baby (and other things) looking forward to the tuning show…"
Sexual Terms Of Endearment
Bring your bedroom talk into every-day conversation. Along with instantly making you the center of his attention, this will give him a glimpse of what's really on your mind. The truth is, men don't forget the words you use while in bed. Everything you say is linked into his brain thanks to muscle memory. A few key words are all that stand between him making some coffee in the kitchen and a sudden flash of last night's "activities".
Make him feel like a stud:
Throw around words you've used to describe his sexual prowess.
"Lost count last night. You're good ☺
"Every inch of you is so hard and tasty. Yummy."
Words That Turn Guys Off And Other Cautions
When you're trying to spark arousal, take caution. Every man has different levels of adventurousness. If you're a kinkier person and have never slept with your partner, or have never had an in-depth conversation about sex before, sending a text that alludes to your extreme fetishes is a bad idea. After all, your kinks might be his biggest turn-offs. It's safest to take his sexual temperature when you're face-to-face.
Similarly, your mom-sexual TMI (too much information) might cross a line, too. The man you're trying to seduce doesn't want to hear that you just spent your afternoon getting a facial wax, or that your pet has the stomach flu. Even if you personally consider topics such as these to be a part of normal conversation, avoid them for now. No matter what method you employ, remember: words that turn guys on the most will feel natural and comfortable for both of you. If you force it, he will feel it. Have fun!
Share this:
Recommended for you
21 Responses to "Words That Turn Guys On And Keep Them Turned On"
Speak Your Mind!
If you'd like a picture to show up by your name, get a Gravatar.