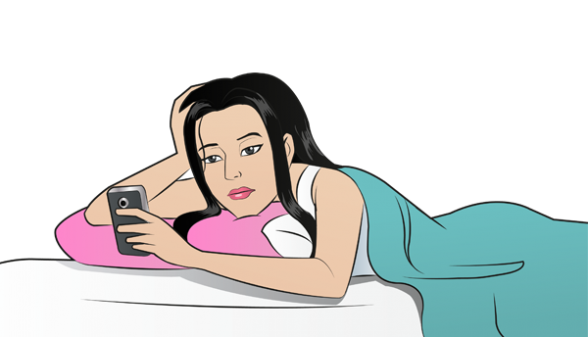 Share this:
He was quite funny after all, wasn't he? And looking back over old photos you still know that he was no Bradly Cooper, but dayum – that smile.
As your feelings grow and your regret grows even more, that one question that we all hate pushes itself to the front of the queue and flaunts its power right in your face; 'what if?' 'What if I had tried harder?' 'What if he was the one?' The uncertainty becomes too much and all you want to do is pick up the phone and scream:
"Pleeeaaase take me back!"
STOP!
Getting back in touch with a guy you like after a lengthy break requires a certain skill and finesse. Going in all guns blazing will not get the results that you want.
If you want to present yourself as the independent and sophisticated lady that you are, then keep reading and find out how to reignite those old flames.
How Can You Kick Start The Communication?
Communication is key in any relationship, whether romantic or not, so getting this going will be the first step to revisiting the romance.
1. Work Out The Cause Of The Communication Breakdown
In order to find a solution you need to know what the source of the problem was. Before you contact him, identify what caused the breakdown in communication between the two of you, so you work towards fixing it. For example, who stopped texting first? Were you the one to impose the silent treatment, or did you simply follow his lead?
2. Put Yourself In His Shoes
Be prepared for any response he throws you by putting yourself in his shoes and trying to imagine how he is going to react to a sudden influx of conversation from you. Will he be angry, pleased or slightly cautious? Keep in mind that he may not have gone through the same process as you, and may not be feeling as positive about this reconnection "thing".
3. Keep It Light And Cool
If you haven't spoken in 6 months, there is no need to write him a novel detailing everything you did and felt during your time apart (easy on the information overload). If he doesn't ask for an explanation of why you haven't contacted him, then don't give him one. Excuses just make you look guilty, so just play it cool. Serious conversations should never take place via text. Always talk about deep feelings or issues in person.
4. Find The Perfect Ice Breaker
No matter how much you feel that you are doing the right thing, hitting that send button will likely be one of the scariest things you will ever do. Take the fear away by making sure you have a foolproof ice –breaker that he can't NOT reply to! Try to work in an inside joke so he can't help but remember how adorable and fun you are.
Examples:
"Hey stranger, are you keeping out of trouble?"
"Still living the rock star lifestyle?"
"How are your plans for world domination 🙂 "
Tips For What To Text A Guy You Like
After you have broken the ice and gotten the conversation started, what can you do to keep the momentum moving forward? Well, it's time to put on your big girl pants and use a little bit of your intelligence and your fabulous female charm!
1. Be Creative
Getting past the awkward reconnection requires a little bit of effort. If you want to get this guy interested in you again then you need to remind him why he liked you in the first place. Avoid closed questions, and sending lame texts out of boredom. Instead, always prompt him to give you a free flowing answer. Pick up on areas in his responses that can be expanded upon, and include that in your next message.
2. Re-Connect Using Previous Conversations
Revisit the last idea that you talked about with a different approach. For example if it was his next marathon, why not go ahead and say "Went for a run yesterday and thought of you. How's the training going?" Show that you remember details about him because he is important.
3. Pay Him A Compliment
Appeal to his pride and ask him about a professional or personal achievement. Pay him a sincere compliment. Positive communication will help to ensure that he will want to carry on getting to know you again.
"So how is life post-promotion?"
4. Prompt A Face-To-Face Meeting
Texting is an amazing tool for instant communication, and staying connected. But even for me, a texting fiend, I know it can't replace the real thing! Once the conversation has been flowing for a while, casually suggest a face-to-face meeting. This is the only way you will know if reconnecting was the right or wrong thing to do. Do it in a creative and playful way, for example:
"I'm thinking about checking out the new wine bar Thursday night with none of my friends, you been there yet? :)"
What to text a guy you like but haven't spoken to in a while is always going to be nerve wracking experience. But instead of feeling those negative nerves that make your stomach churn, use these texting tips and go get your man!
Share this:
Recommended for you
Speak Your Mind!
If you'd like a picture to show up by your name, get a Gravatar.