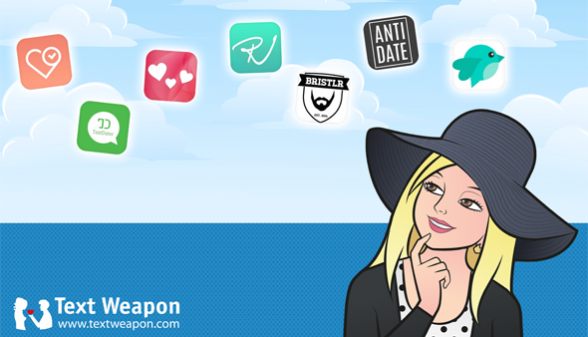 Four words: best new dating app
But which one?
Dating apps have become so individual, so catered that finding the best new dating app is almost like finding the right partner.
It takes time (and a little luck)
To help you in your search for YOUR best new dating app, check out these fabulous suggestions, all of which were finalists at the UK Dating Awards 2015 and all of which are super cool and innovative.
Antidate
"Let's flip the rules"
The difference between Antidate and many other apps on the market is that women are in charge. It's the women who do the chasing, the women who do the choosing, and the men? Well, they have to sit there and wait to be picked! This is a popular and alternative take on the old school dating game.
The makers of this app felt let down by other apps in the past. They were bombarded by unsuitable matches, and failed to find anyone even half way suitable. With this in mind, they decided to develop an app with what they call an 'asymmetric' feel; this means basically the power is firmly in the girls' camp.
So how does it work? A woman sees a man on the map and thinks 'hey, he's nice' so she decides to send a 'tap'. So far so good. The man then sees the woman's details (where previously he could see nada). What happens next? Well, hopefully messages are exchanged, dates are enjoyed and couples are formed!
Website:www.antidate.co.uk
Twitter: @antidate
APP Store
Bristlr
"Tinder for Beards" CNBC
Now, we can't deny the fact that everyone has different tastes in life, different quirks and likes. Bristlr focuses on the fact that some women like a man with a beard, and if that sounds like you, this is the app you should be downloading right now! It will save you from having to look through endless profile pictures in the search for some facial fuzz.
Known purely as the 'Social Beard Network' this app literally focuses on whether you have a beard or not, if you're a man, and whether you like beards, if you're a woman.
According to John Kershaw the founder, "we're one of the few dating apps out there with a shortage of men. In London, for example, we have twice as many people looking to date someone with a great beard, than we have available beards!"
He went on to add "also, if you take the total length of beard hair grown by our users, since Bristlr started, it would go round the world three times." Now that my friends, is a lot of beard hair!
So, are beard lover type apps the future of dating apps? John thinks so, "the rise in niche dating apps is letting people use super simple apps to find people they have something in common with, beyond just proximity. We're actually opening up our platform over on M14 Industries to let anyone make their own niche app, which is super exciting."
Website: www.bristlr.com
Twitter: @BristlrApp
APP Store
My Mate Your Date
"Your mates know people you'll like."
This particular app has the handy feature of using your Facebook account to identify your potential matches. How? Well, you sign in with your Facebook account and from there the app looks at your friends, and then goes one further, because we know you don't want to be dating them; instead, it looks at friends of your friends.
It's a free app, which is a major perk, and because it uses your Facebook account, you don't have to spend half your day setting up your profile – because let's face it, nobody's really got the time for that, right?,.
They also have a paid matchmaking concierge service that sets up actual dates – and guess what? Everything is arranged by MMYD!
The founder of My Mate Your Date Dan Joyce was inspired to start this new service after receiving tons of feedback from members, "So many of our users report becoming disillusioned with the online dating market – so many matches, so few meaningful chats, hardly any quality dates. We're looking to change that with our Dating Concierge service, by getting people offline and on to good dates as quickly as possible."
Website: www.mymateyourdate.com
Twitter: @MMYDUK
App Store
Rendeevoo
"You. Me. Drinks. Now."
If you're looking for an app to give the crown title of the 'best new dating app' simply because it is hassle-free, then Rendeevoo is a good go-to.
If you want to go on dates, but you don't really want to swap messages for weeks beforehand and then spend hours agonizing over where to go, Rendeevoo takes the hard work out of it. You are only allowed five photos from your Facebook profile and a 140 word paragraph on your profile, so you need to be clear and concise.
You browse and then, this is the interesting bit, you 'place an order'. Yes, you read that right. You place an order basically selecting when and where you want to meet, from a list of bars and restaurants. A date is then arranged, but the rest is up to you, as the app only does the ground work, you have to do the conversational part in person. The other quirk is that users have to provide credit card details in order to pay for drinks in the bars being signed up across London.
Website: www.rendeevoo.com
Twitter: @rendeevoo
App Store
Smooch
"We Believe Relationships Start With A Conversation"
This is a popular dating website in the mainstream, but it has branched out into app form, to make it easier for users to stay connected and find their potential matches on the go. You could easily meet your future partner in your lunch hour!
As with many larger dating websites, you can browse and message for free, but you need to pay for the more premium-style services, such as VIP search facilities.
The Smooch slogan is 'we believe relationships start with a conversation', so talking on the app is the first step, meaning you are free to start a conversation for, literally, free. You can log in with Facebook to make the whole thing quicker, and the popularity of the app really does speak for itself, making it a major player in the race to be the best new dating app.
Website: www.smooch.com
Twitter: @SmoochDating
App Store
TextDater
"Self over selfies"
Our final choice is TextDater, a Virgin backed start up launched in mid 2015. The iPhone version is available now, and the Android version is due to be released at the end of Q1 2016.
TextDater targets singles looking for a relationship, not those who simply want to hook up. The app doesn't focus on your profile picture, so you avoid superficial choices. Instead it's about your personality, and what you say in your profile itself. TextDater works using compatibility, helping like-minded people meet and fall in sweet, sweet love, through similar interests.
Jon Pellington, founder of TextDater said: "A picture might be worth a thousand words but not when it comes to dating. People looking for a fresh start should take a new approach by joining a mobile dating scene without the pressure of endless selfies."
He went on to say, "After going on one too many unsuccessful dates arranged through apps that focus on looks, I realised the mobile dating market was lacking a place where people could easily find potential partners based on the things that make each one of us unique. After all, no one can be summed by a few photos or a dropdown list of likes and dislikes."
As someone who is passionate about the written word, this app definitely ticks all my "like" boxes and sounds like the perfect app for me!
Website: www.textdater.mobi
Twitter: @textdater
App Store
Best New Dating App Is Just A Click Away
So, have you found your personal best new dating app?
Not yet?
Well, if you're on the hunt for the best new dating app to help you meet the love of your life, the suggestions above are a great place to start.
Busy individuals don't need to miss out on love with a capital L, because these apps make it so much easier to filter out those who simply aren't compatible, or those who don't have the same outlook or requirements from a relationship that you do.
Recommended for you
Speak Your Mind!
If you'd like a picture to show up by your name, get a Gravatar.