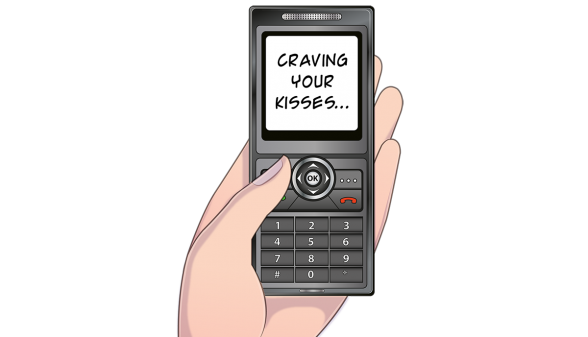 Mmmmmm Tasty!
Romance is the spice of life. It makes both parties feel happy, desired and appreciated. What's an easy way to inject some romance into your relationship? The answer is simple: sweet text messages! These messages should not only be reserved for Valentine's Day, or the beginning of a relationship. Short sweet text messages should be little electronic treats that you send your partner from time to time. If you always text "have a good day. xoxo" amp up the cuteness and send instead "I'm so madly, insanely, and incredibly in love with you! Just don't you ever forget it! ".
Recipe For Sweet Text Messages
What's the secret sauce that will guarantee success almost every time you hit send? Be genuine. This means not stealing lines from famous movies, such as "you complete me" or re-working lyrics to well known songs "I just texted to say I love you". Be yourself, and show your personality. And of course, there is the obvious…be romantic! Leave the complaining for your colleagues at work and avoid sending negative messages such as "traffic was awful this morning, this city sucks!". Instead, take advantage of some of the ideas below.
11 Sweet Text Messages To Send Your Honey
1. No matter where I go, or what I do, nothing feels better than coming back to your arms.
2. The second we locked eyes, I knew I had to meet you, love you, and adore you.
3. Every time I see you I fall in love with you again.
4. Even though I can't right now, all I want to do is rush home to your arms
5. Thinking of you makes me want to be a better person.
6. Would really like to get to know you better. Maybe we can spend some time falling madly in love?
7. Somehow just knowing that you exist makes everything OK.
8. Tu es un ange. Je t'aime
9. Time for me to turn in. You're going to be on my mind all night long.
10. The pain of your absence is constant. I miss you so much.
11. Just saw a shooting star…hope my wish will come true.
P. S.
Download our free report and watch your texts reach more than just their phone.
You'll also receive our blog updates with articles streaming valuable information and tips on how to fire your partner's passion and hone your seduction skills.