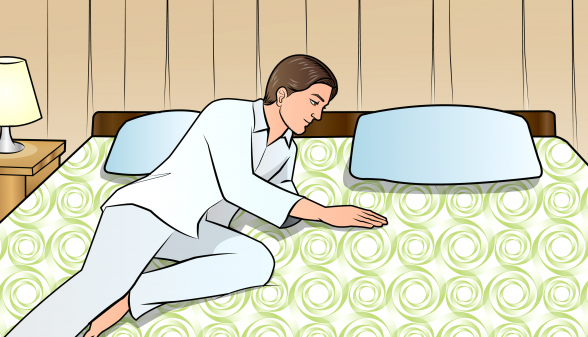 Share this:
Luckily, texting, instant messaging, and the Internet have made it a lot easier to keep in touch with your partner in a long-distance relationship. That being said, it's hard to express true love and affection over iMessage, and only being able to text your significant other every single day can get stale really fast. Here are a few tips to let your partner know that you're thinking of them over text!
Remember Important Events
When you and your partner live in the same house, town, or city, it's much easier to keep track of the goings-on in their life. A really quick and easy way to let your significant other know that you're thinking of them is to check up on them before or after a big event in their life. Do they have a big presentation to give at work today? Send a quick text wishing them luck in the morning! Did they just finish giving a huge presentation at work? Message them to say that you hope their presentation went well! Remembering these events can go a long way in showing that you care about your partner's day-to-day life, even when the two of you have to be apart.
Share the Small Things
Although it's absolutely important to remember the big events in your significant other's life, the foundation of strong relationships is also built upon sharing the small details that make up your everyday lives. Sending an aesthetically pleasing picture of your morning latte, an adorable dog you saw on your way to work, or the food blog-worthy pasta you're cooking for dinner is a great way to make your significant other smile, and it lets them know that you're thinking of them in the small, mundane snippets of your day.
Text Good Morning and Good Night
This might seem like a no-brainer, but it feels incredibly nice to know that your partner is thinking of you when they wake up in the morning and when they go to sleep at night. Firing off a quick good morning or good night text is a fast and easy way to maintain closeness with your significant other, even when you're miles and miles apart. Another tip: switch up your good morning and good night texts by adding in different emojis. Not only are emojis incredibly cute, they also keep your good morning and good night texts from seeming bland or repetitive.
Make Them Laugh
One of the best things about scrolling through your Twitter or Instagram feed is stumbling upon ridiculous memes that make you laugh out loud. If you come across a meme or funny video that you think your significant other would get a kick out of, don't be scared to text them a link or tag them in the comments. Just be careful not to spam them with memes — one or two a day is perfectly fine, but receiving upwards of ten memes in the span of an hour can get annoying.
Watch a Show Together
If you and your significant other have similar TV tastes, a great way to feel close to them in a long-distance relationship is to watch a show together. Discussing shocking plot twists and crazy season finales is an easy way to bond and spend time with each other, even if you aren't physically together. Set up a viewing schedule so that neither one of you gets ahead of the other, and text each other your thoughts after you both finish an episode. Just be careful not to spoil the plot for one another!
Share Your Plans for the Day
When you're in a long-distance relationship, it gets harder to feel like you're a tangible part of your significant other's life, and vice versa. An easy way to solve this sense of emotional distance is to share your plans with each other. If you're feeling excited to see a movie or grab drinks with friends after work, text your significant other about it! Even if your partner can't physically be a part of these plans, it's an easy and effective way to share the details of your life with them and help them feel like they're still a part of your day.
Sometimes, texting can feel like an awkward and impersonal method of communication, even if you're in a relationship with the person you're texting. Hopefully, these quick and easy tips help you feel more confident in sharing your life and reaching out in a long-distance relationship. Although distance is definitely an obstacle in maintaining a healthy romantic relationship, learning to communicate over text can go a long way in helping the two of you stay as close as ever, despite the physical distance between you!
Share this:
Recommended for you
Speak Your Mind!
If you'd like a picture to show up by your name, get a Gravatar.