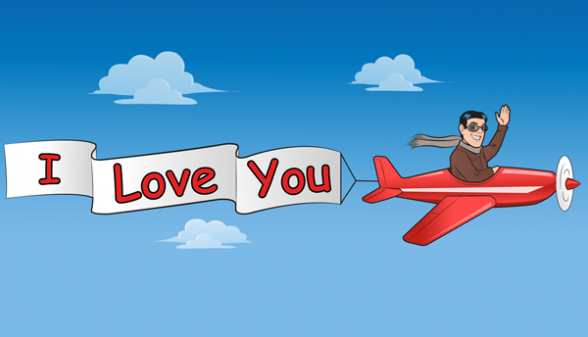 Writing a touching, non cheesy I love you text message takes some serious creativity, and a hefty dose of personalization. Are you ready to take the plunge? Read on for 4 different ways to express your deepest feelings.
Seriously, More Than…That?
Be cute and pick something everyone knows you really love, like a particular sport, food, or place, and then tell your partner you love them…even more than that! Here are a few I love you text message ideas:
– I love you more than chocolate chip cookie dough ice-cream
– I love you more than front row seats to the Champions league final
– I love you more than an all-expense-paid trip to Cancun
Compliment, Compliment, Compliment
Pick something about your partner that you truly admire. For example, their creativity, kindness, sense of humor, style, beauty, skills or honesty:
– I love you for how you've changed my life.
– I love you for your hot body and even hotter imagination.
I Love You
Sometimes old school is best. You don't always have to be creative, sometimes you can just text "I love you." The key is timing. Pick a random moment during the day when you know you partner won't be busy, and then send them the ultra-simple, yet extremely powerful I love you text message:
– I love you.
Not very creative, but very effective.
P.S…
As long as you aren't in the dog house (in which case a message like this may come across as brown-nosing), send a sweet text message to your partner such as "I love your playful personality, you're so cute" Then, send a second text message with a simple "P.S.":
– P.S. I love you
I Love You Text Messages Never Replace Your Voice
While texting should never replace telling your partner "I love you" face-to-face, a personalized I love you text message can be a wonderful way to cement and strengthen your bond. Keep these tips in mind, and start spreading the love today!
Recommended for you
Speak Your Mind!
If you'd like a picture to show up by your name, get a Gravatar.