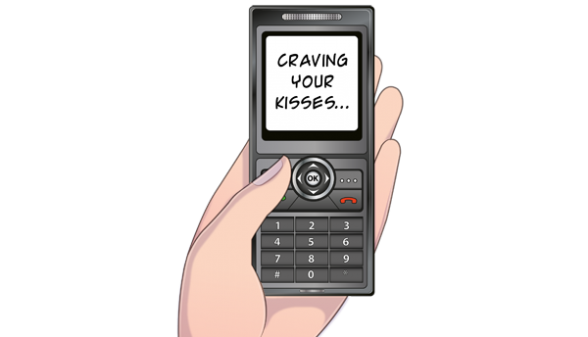 Share this:
Before we begin to discuss how to flirt you need to understand why flirting is so important.
How To Flirt – The Basics
Flirting is great for many reasons. It's free, it's fun, it can be done face to face or via text, and best of all, the receiver will feel flattered, pleased, revitalized, suddenly romantic, and possibly even aroused. They may even respond to you with smiles, enticing texts, kind words, date offers, and a little taste of their own flirting.
And The Down Side?
By contrast, if the act of flirting is not carried out correctly, the flirter may end up losing whatever chance they may have had with their crush; or, even worse, offending them, or destroying a good friendship. Misplaced attempts at flirting, such as harsh teasing instead of something cute, light, or funny, can damage long-lasting relationships.
For example, never attack your partner's body, or you might find yourself sending something like this soon after: "Baby, I was just kidding, those jeans really DON'T make you look fat…I love your body." Sorry, too late, buddy.
Each method of flirting comes complete with its own predetermined set of do's and don'ts. In other words, it's not always what you say or do, it's how you say or do it.
Friendly Flirting
Sometimes the safest and most effective method of flirting involves starting out slowly with a little old fashioned friendliness. Is there someone cute at the gym that you'd like to get to know better? Instead of going straight for the emotional jugular and trying to seduce them across the weight room, try simpler, less threatening gestures such as smiling, catching their gaze, and friendly hellos.
Keep It Light
Engage in fun conversation with the person, expressing interest in them, their hobbies and interests, and discovering the things that you may have in common. Try to get their cell phone number. Then, take this knowledge and run with it. If you like the same sports team, movie star, or music group, send them a text to let them know that you have an extra ticket to a game, film, or concert.
If you share an interest in a certain sport or TV show, discuss or exchange texts about last night's game or a recent episode with them. For example, send them a short text after a televised match using the game as a crutch to ask them for something else: "Can you believe they lost 3-1? Going to try a spinning class tonight at 6. Shall I save you a bike?"
How To Flirt Using Touch
Now that you are spinning together and talking sports, what's the next step in how to flirt?? Why not try being like Olivia Newton John and getting "Physical"? When venturing down this path, take extra care not to offend your partner. Keep the ridiculous over the top tush-grabbing for the romantic comedies and read on for some more flirting advice.
Physical Flirting
In today's world, you need to be careful when physically flirting. It should go without saying, but it's never appropriate—or legal, for that matter – to touch someone in a sexual manner without their consent. Even tight hugs, touching lower backs or knees, and casual kisses on the cheek might be considered out of place when you just meet someone or have a professional relationship with them.
Go Slow At First
So, when attempting any type of physical flirting, be sure to save the heavy stuff for later. In the beginning of a friendship or dating relationship, opt instead for little gestures that really do mean a lot.
Light, quick touches on the arm are almost never considered inappropriate, and can build intimacy, leading to hugs, light kisses, holding hands, and beyond.
And For The Couples?
For a committed or married couple, of course, physical flirting takes on a whole new dimension, and knows very few bounds. Still keep in mind, that there is a time and place for everything. Both partners must consent to every type of physical contact that takes place. The last thing you want to do is to make your partner feel groped. Some people are more into PDA then others. Understand your partner and what they enjoy.
Flirtatious Flattery
Most people love to be on the receiving end of compliments. To be told, or texted, by someone special that you're bright, sweet, or physically attractive can really make your day.
So You Like A Friend…
If you are romantically interested in a friend or someone that you bump into regularly (like the guy or girl at the gym), then go ahead and send them a text letting them know that you've noticed something special they've done. For example if they get dressed up, then text them something to let them know that they've caught your attention: "I love your red dress today. The color is really stunning on you."
Don't Just Focus On The Outside
Flirty compliments don't need to be limited to your partners physical attributes. If they spend their time helping others by volunteering at the homeless shelter, then praise their dedication.
For example, "I really admire you for how you help out every Saturday with the food drive. You're so much more than a pretty face." These compliments will clue them in to your kind nature, and will also let them know that you have an interest in them that is more than friendly (you've shown this by mixing in a little physical flattery).
How To Flirt – Dont's
Complimenting your partner's selfless behavior is almost always appreciated. However, focusing only on their "ample assets" can quickly send you to the doghouse. If you want to remain in their good graces, make sure that you compliment from the heart, mix up your compliments, and don't let too much time go by between compliments. Take the time to let your sweetie know how much you appreciate them, and your relationship.
How to Rock a Compliment
Flirting is not just reserved to the "wooing" stage of a relationship. Those in an established relationship should make it a point from time to time to praise their partner in some way. Don't ever let them feel unappreciated.
Mix It Up
Is there ever a wrong way to flatter someone? Unfortunately, yes. For example, if you always tell your girlfriend or wife that she is a nice person, and never praise her physical beauty, then she may feel as if this comment implies that she is unattractive. Make sure to mix up your compliments.
Don't Over Do It
At the other end of the spectrum, if you're excessive and downright unbelievable in your flattery, such as telling her that she's more beautiful than all the super models in the world combined, or more erudite than Einstein, then your attempt at flirtatious flattery may backfire, and you could be labeled a phony.
Be Genuine
Instead, compliment him or her on something that you really do appreciate. It will come off as more genuine, and will increase the intimacy in your relationship. For example, send him a text such as: "Hey there sexy macho man. Thanks for driving last night. I always feel so safe with you behind the wheel." This text will show him that you think he's sexy. But it goes further than that, it lets him know that he makes you feel safe, he provided you with a valuable service, and that you appreciate him. Win-win-win-win!
Start flirting today and enjoy the great art of flirting. If you would like to learn how to use texting to its full potential and flirt with your dream partner, anywhere, anytime, then check out Text Weapon – French Seduction Made Easy. It's a master texting course on how to flirt via text with a fresh approach at securing the desire of your dream partner…and keeping it.
Share this:
Recommended for you
Speak Your Mind!
If you'd like a picture to show up by your name, get a Gravatar.