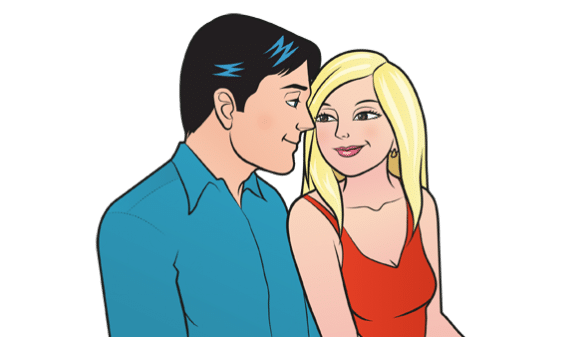 Share this:
Guys, if you've failed so far to get flirty via text with your girlfriend, the easiest way to do it is with hot text messages to turn her on.
You can flirt with her, tease her, banter with her, make her laugh, make her howl – and make her want you. And the best part? you can do it all on your phone.
Hot Text Messages To Turn Her On
How? Let's take a look at these 5 hot text messages to turn her on and make her even more interested in you.
1. Role Play
"Picture the scene. You and I have been caught in a storm on our way home from a concert. We come across a secluded place…what do we do?"
One way to compose a killer hot text message to turn her on is to role play.
If she isn't in the mood for romance, she won't respond with anything more than a simple, boring answer.
How Will She React?
If she's excited, on the other hand, she'll play along.
You don't have to use the exact text we've used, but it's important that you set the scene creatively. Use your imagination. To get her interested in role-play, you need to put in some effort to create an intriguing and sexy story line.
The situation can be anything. Perhaps the two of you have been trapped in an elevator together, or maybe you're stranded on a desert island.
Encourage her to picture the two of you getting frisky.
2. Ask Her About Her Preferences
"Where do you like to be kissed the most?"
When you're trying to craft the right kind of hot text messages to turn her on, you should definitely ask her where she likes to be kissed the most.
Is it edgy?
Maybe a bit.
But it helps to build sexual attraction and gets her to open up. It also moves things forward.
Once you've asked this question, you've opened a can of worms. She'll start thinking about you kissing her and she'll feel desired, which is a very good thing!
It Might Go Anywhere
Any you know what? Her answers might lead from one thing to another, with the two of you getting even more intimate.
For example, if she says she likes it when someone kisses her hands, you could then say, "Bet you'd like my hands all over you."
The more detailed her answers are, the more you know she's into the conversation.
3. Ask For Her Opinion
"If it was just the two of us alone tonight, what would we do?"
This is an excellent question to get her excited for your evening alone. Not only are you asking for her opinion – which girls love – but you're role-playing and you're keeping it realistic. What she says could actually happen for real (unlike our earlier role-play text).
By asking her this question, you've let her know that you're excited to spend time with her. As such, she knows she's allowed to be as intimate as she wants with her answer. You're encouraging her to reveal some of her feelings and help to build the sexual tension for the evening.
4. Take It Up A Notch
"I'm craving something. It's gotta be hot, sweet…and preferably blonde. Any recommendations? ;)"
At this point, it's up to her to react. Don't think it'll work? It's one of the best ways to get her interested.
Can I Change This Text?
Again, you don't have to send this exact text. But we like this one because it adheres to the Rules of Three that are essential to good comedy.
Basically, you give her two serious options – you want something to eat that's hot and sweet. Then, you toss in a sexy third option that is clearly referring to her.
It's a flirty, fun and super sexy text that will get her interested and build the desire.
5. Crank Up The Desire
"Just thinking of how hot you are in red. Got anything silky you can slip into later? ;)"
When it comes to building sexual desire and arousing her interest, there are times when you need to be bold and upfront about what you want. Why? Because it makes her feel sexy and wanted.
Whichever hot text messages to turn her on that you decide to send, remember to keep them flirty and fun, and don't forget to toss a few emojis in there. The right ones help to build sexual tension.
Good luck!
Share this:
Recommended for you
2 Responses to "Hot Text Messages To Turn Her On"
Speak Your Mind!
If you'd like a picture to show up by your name, get a Gravatar.