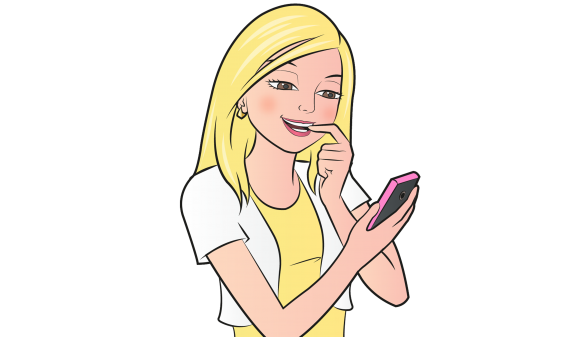 The difference between a one-time infatuation and a relationship is keeping your man interested, and these flirty text messages to send to a guy you like will do just that! The key is to send messages that fit your personality and remind him of all your best qualities. Read on to see the best texts to match your style.
Shy And Sweet
If he is attracted to your kind yet reserved personality, flaunt it. Your coyness is perfect for teasing. Nothing's cuter than a shy girl who has a secret wild side! Instead of spelling out every detail, leave a lot to his imagination and have him wondering the true meaning behind your words.
Examples:
"I wish you were here right now…"
"Guess what I was thinking about in the shower?"
"I'm all alone tonight…too bad I don't have any company…"
Confident And Caring
Do you like to take charge of your romantic life? Confidence is not only a trait that women find sexy in a partner, it is also a huge turn-on for a lot of men. When you take initiative and flirt with your guy, it relieves him of the pressure of "leading the dance". It also makes him feel attractive and wanted, and it allows you be in touch with your most sensual self. Be blunt, but remind him that you are still a warm, feminine woman.
Examples:
"I notice you staring at me every day. Don't worry. I like it."
"You, me, drinks, 9pm."
"Hey handsome, you looked tired today. What can I do to help?"
Mysterious And Mesmerizing
Whether you're the new girl in town, or you simply carry an air of mystery, men see you as an enigma. You're a code to be cracked. Make him interested in the thrill of the chase. Wait a little longer than normal between texts. Allude to things, and don't talk about them unless he asks you directly. When you're flirting, use his name; this will make the texts seem more personal, even if the information you share with him is not personal at all.
Examples:
"Hey Kevin how good are you with your hands?" (follow up with a second message about how you need a shoulder massage)
"I'm usually pretty calm, but when I'm thinking about you, it's different."
Send a picture, but zoom in on the subject so he'll have to ask you what he's looking at.
Miss Funny Pants
Are you the class clown of your office? When you're writing flirty text messages to send to a guy you like, don't let your messages get too immature or silly. Being funny and showing your intelligence is sexy. Sending knock-knock jokes, or coming across as vulgar – not so much.
Examples:
"I have an extra ticket for tonight, but I can only invite a charming, handsome man. It's such a bummer. Do you happen to know one?"
"You're lucky you're so cute. It's why I keep you around."
"You can't come out with us! You might be snatched up by a group of even more beautiful women, and I'll never see you again."
Texts That Should Never Be Sent
There's a huge difference between sexting and flirting. Along with being dangerous to your online reputation, sexting a man you just met will make him think you're a floozy and he'll definitely be less attracted to you. Instead of sending a nude photo, take a picture of yourself in a new sundress, or even a Snapchat of cute little you tucked into bed. Your goal should be to leave him wanting more – to see you in person – as soon as possible.
The key to finding what works and what doesn't work is to experiment with your own writing style. Men enjoy receiving genuine messages from women that are filled with personality and everything that makes her special to them. The flirty text messages you send to a guy you like should be just as unique as you are!
Recommended for you
18 Responses to "Fab Flirty Text Messages To Send To A Guy You Like"
Speak Your Mind!
If you'd like a picture to show up by your name, get a Gravatar.