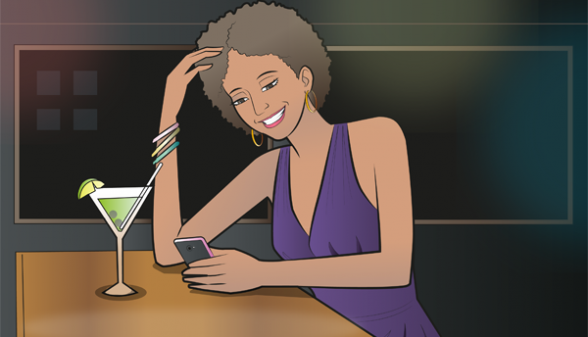 People constantly talk about how smartphones, technology and nonstop connectedness are destroying basic human interaction – but these people obviously aren't single.
The best dating apps that are now on the market actually help bring people together. But if you're one of the many who have been turned off by the amount of creepers lingering around on certain apps (Tinder men, I'm looking at you), than it's understandable that you might have shied away from phone-screen love.
To help you get past your fear of app creepers, we've put together a list of the newest, classiest and best dating apps.
Happn
Happn is a Parisian take on normal smartphone dating apps. Happn allows you to match with users when you cross paths with one another. When you see someone you've been checking out pop up on your Happn, you can 'like' them – and if the feeling is mutual, you get your chance to strike up a conversation.
The reason Happn is so great, is because it seems like the serendipitous app of fairy-tale love – but it's actually quite logical, showing you how many times you've crossed paths with someone, and where, meaning that you can be quite sure of bagging yourself a local who travels in the same circles as yourself.
OkCupid
OkCupid is dating sight turned app that is well known for good reason – it has the reputation of being the most popular online dating site, and now all those options are transferred straight to your pocket.
Everything you can do online, you can now do on the run – quizzes, profiles, choosing – but you also have the added flexibility of being able to upload photos straight to your profile. This is a great way of turning a classic dating website into more spontaneous fun.
Bumble
For the ladies who like to be in control, Bumble is the app that has it all.
Bumble is similar to Tinder in that users swipe left and right over profile photos to indicate attraction, however, where it differs is that once a couple have matched up, the woman gets to make the first move. But it gets better! If she doesn't make a decision within 24 hours, the match disappears – forever! What does this mean? No more creepers sending out copy-and-paste chat up lines and no more anger when you don't reply to someone you barely swiped anyway!
Hitch
Ever thought your friends are wayyyyy more clued in about your dating life then you? Then Hitch is the perfect dating app for you.
Friends recommend mutual friends that they think you'd like, and you can start chatting anonymously straight away. If you like what you read, reveal your details. If you're not feeling it, you can stay anonymous, and they (and your friend) will never know.
Hitch takes the danger out of anonymous dating, as everyone you meet is through a close friend. Better yet, those 'relationship' friends who are always telling you to settle down can finally get in on the fun!
Pure
If the guys out there are wondering what happened to the hook up culture of the dating app – relax, it's still alive and kicking. Pure brands itself as the ''Uber for dates'' and lives up to the title.
Simply post a request for a meet up, and anyone in your area can respond. As soon as they do (or if they don't) the call out is deleted. You meet at the designated place and let whatever happens happen…
How About We
For all the romantics out there, How About We matches people up based on their ideal first date.
Users post an idea for a date, and if you like the idea, respond to set up a date and a time! This app allows for a bit of creativity in dating, but also is more about action then swiping. With a focus on fun dates and get-togethers over hookups, it puts people together with the same interests, in the hope that they'll really hit it off.
The Best Dating Apps Are Waiting For You
Dating apps are getting increasingly safer, more 'friend circle' orientated, and gaining a lot more attention to detail rather then just swiping for a face and receiving a naked selfie
Whether you're looking for true love, you want to meet that hottie who just walked by, or you are after a fun date with a lovely person, in 2015, the best dating apps are waiting for you.
Are you at a loss for message ideas? Sign up for our free 30 day Texting Club trial and you'll receive over 300 text messages!
Recommended for you
2 Responses to "6 Of The Best Dating Apps (That Aren't Tinder)"
Speak Your Mind!
If you'd like a picture to show up by your name, get a Gravatar.