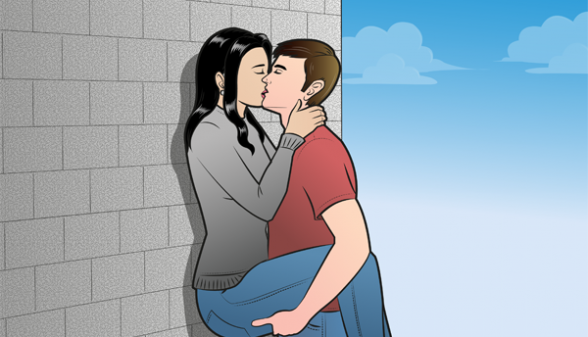 Share this:
Texting is a great way to communicate how you're feeling, whether it's happy, sad, lonely, excited – or even horny. This article is here to help you with that last one. Read on for four tips on how to turn a guy on over text!
Tip 1: No unsolicited nudes!
I'm not going to talk about the number of nude photo leaks (ew) that have been in the news. I'm not going to tell you that you aren't in high school. I'm not even going to talk about the problematic scenario of a guy opening a text with a nude photo in it while standing in line for coffee at Starbucks.
I'm just going to say this: unsolicited nude photos don't excite him (at least in the long run). First they confuse him. Then shock him. Then delight him. Then give him whiplash as he snaps his head back and forth checking to see that nobody else has seen it. Then give him something to do in the bathroom for 15 minutes. And then you're right back where you started.
So, what's the secret to how to turn a guy on over text, and keep him turned on long enough to benefit from it? Build anticipation. Engaging his imagination. And you just killed any chance of that with your XXX pic.
Get inside knowledge on texts that will leave them craving more! Enter your email and see results IMMEDIATELY*
*Completely free. You need to confirm your email address.
Nude photos are something that solid couples send each other. But it's important to establish the fact that "this is for later" first.
So before you strip down, try this next tip instead. And guess what? It's even easier than sending a nude photo.
Tip 2: Tell him you're horny.
Yes, it really is that simple. When you tell a guy you're horny it engages the primal part of his brain that's always geared towards sex. Because when you say I'm horny, he hears, I'm getting some later."
This way you engage his imagination and get him thinking about your body without giving him a good way to assuage those feelings like a photo.
Let me put it this way – no matter how horny he's feeling, he's not going to take care of himself when he knows you're waiting for him. Texting is the perfect way to tease him and turn him on. Since he can't satisfy his desire, he won't be able to stop thinking about it.
That you aren't wearing any underwear. That just thinking of him is making you wet.
Go wild! So long as you keep things focused on your own erotic feelings, you'll be sure to drive him wild with desire.
And yes, in case you were wondering, texting something as simple as "I want you" will probably work too.
Tip 3: Engage his imagination, but keep him grounded in reality.
Once again, the key to how to turn a guy on over text (and keeping him turned on) is getting him aroused without getting to the point where you two are having phone sex. Delaying gratification.
The trick to doing that is just as simple as the last tip. Keep everything focused on what you are going to do, instead of what you are doing.
Text him, "I want you to do this thing to me later." Or ask him, "What do you want to do to me tonight/over lunch/in the bathroom at your cousin's rehearsal dinner?"
You'll be amazed at where some of your suggestions will take the both of you. And don't be surprised if you end up feeling a bit turned on yourself!
Tip 4: Play up the exhibitionist angle.
One of the hottest things about flirting via text is that you can do it from anywhere – and he could be anywhere too.
So play up the exhibitionist angle a bit. Text him about things you wouldn't normally do. Play with your respective environments to think up some truly wicked scenarios.
Just remember, throughout everything, to keep building the anticipation without gratifying it.
Text him that you wish he could pleasure you on the way to work. Or that you wish you could have sex with him on his desk, at his office. It's insanely fun trying to think up wilder and wilder scenarios.
That's part of the joy of learning how to turn a guy on over text – it's doing sexy things in a public place with the added benefit of not getting arrested.
It's its own reward. The consummation later is just the whipped cream bikini on top.
How To Turn A Guy On Over Text Final Thoughts
For many people venturing down this playful and flirty road is new territory. Therefore, just like a new fitness routine, I would suggest easing into it. The last thing you want to do is shock your partner. If you are normally sending "Hi baby, have a nice day". You can gradually spice it up by starting with "Hey sexy/tasty, have a nice day" and then maybe move into "Hey handsome/beautiful, want to know a secret?" and then tell them something a little bit naughty such as "I love it when you bite my shoulder…mmmm"
And finally, what's the most important part of learning how to turn a guy on over text? Make sure that it's always fun! Happy texting! Sign up for our Free 30 day Texting Club trial and you'll receive over 300 messages!
Share this:
Recommended for you
31 Responses to "How To Turn A Guy On Over Text – 4 Tips"
Speak Your Mind!
If you'd like a picture to show up by your name, get a Gravatar.